During 2018, over 100 people from across CeramTec were involved in a project to identify and create our Values. As a Company we wanted this exercise to take a step back, reflect and ensure that our Values reflect the type of company and culture we are today and want to be in the future.
Helen Eschenauer
Teamwork
Head of Application Engineering, Lohmar
In her role, Helen has responsibility for leading and delivering technical application support for customers and continuous improvement of materials and products.
This includes the development of new products, new processes and the expansion of product lines with new or modified materials for new product applications. In performing her role, Helen proactively demonstrates her commitment both to the Transparent Ceramics business unit and the Lohmar Plant. She is recognized by many as someone who makes considerable and consistent efforts to support her colleagues in Production and Sales. She is generous in sharing her knowledge and offering practical support to others. As an example, earlier this year the production area experienced a hard breakdown on a Spray Dryer. Whilst the Operations team focused on the immediate issue caused by this event, Helen took the lead to identify the root cause and formulate cross department action plans. By being a proactive and committed team member, she played a key role in managing the immediate issues to resolution resulting in no negative impact on outstanding deliveries and actions were put in place to minimize the chances of a re-occurrence. Helen's commitment to great Teamwork is invaluable and she is a true asset to the overall team.
James "Jim" Bennett
Accountability
Senior Ceramic Engineer, Ruabon, UK
During 2019, one of Jim's colleagues unfortunately suffered an injury outside work and as a consequence was absent for a prolonged period of time while he recovered.
Throughout this time, Jim stepped up to take responsibility for the workload assigned to his colleague in addition to completing his own duties. In taking accountability to ensure all critical deliverables were achieved he regularly worked additional hours and weekends and ensured the business had technical support in place. In addition to covering the day to day responsibilities of the role, Jim also took responsibility for the technical aspects of a major customer investigation including representing the technical team on a number of customer calls and site visits. Jim also played an instrumental role in introducing a new improvement process for powder mixing which his colleague had previously taken responsibility for. Jim's commitment to take Accountability during this challenging time was exemplary.
Bladimiro Zuleta (Blad)
Passion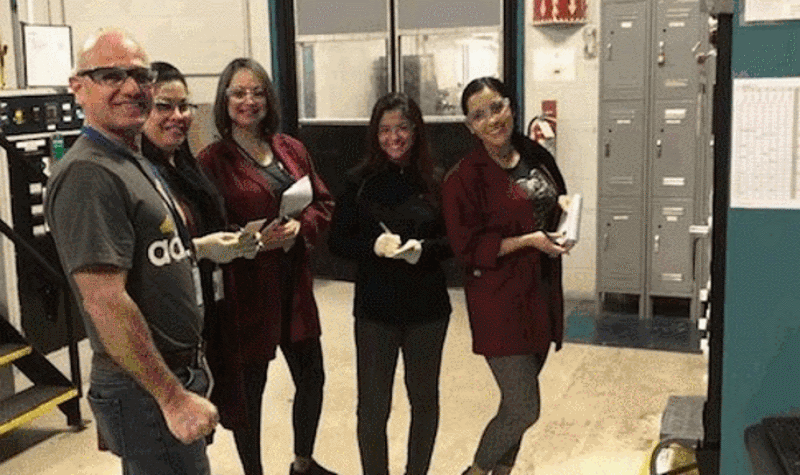 Hermetic Supervisor, Laurens, USA
Blad's dedication to his job exemplifies the value of Passion. On his own initiative, he pushes himself to improve his and the department's success.
Blad's primary role is to make sure parts are made according to specification and deliver them to stock on time. To achieve this he is willing to tackle any problem or challenge, regardless of what that may entail. Examples in the past include working additional hours to ship parts on time, training his team members to upskill their abilities enabling him to work on the next task and it is not uncommon to find Blad building parts himself in order to get them made on time. He regularly jumps in to repair, install or upgrade the furnaces. Blad has a track record of being an instrumental team member for any new project and never hesitates to get involved to help make the project run smoothly. Even with his busy schedule, he finds time to help with company events like "Pink Ribbon Day." His Passion for the job makes him an invaluable member of the team.
Vanessa Bierbrauer
Open & positive mindset
Human Ressources & Apprenticeship Manager Germany, Plochingen
Vanessa is a proactive, enthusiastic and positive member of the team who listens to the feedback and opinions of others and regularly brings fresh, new ideas to the department.
She has taken the initiative numerous times to drive opportunities for- ward, often based on her own ideas of how improvements can be implemented. Recent examples of her work in 2019 include creating a digital apprentice booklet, her membership in the digitalization working team of the vocational training school, delivering computer training for new apprentices and supporting on initiatives including Social week and Values workshops. Her positive nature to find solutions and supporting the department to achieve success is relentless and highly appreciated.
Dita Ramsey & Pavel Šindler
Customer Focus
Customer Service Specialist & Order Fulfilment Manager, Šumperk, Czech Republic
Dita and Pavel have made considerable efforts to deliver a significant improvement in our delivery performance for a key customer; Eagle Burgmann.
Since the beginning of 2019 their combined efforts have resulted in an improvement from 24% to 96% On Time Delivery (OTD). This performance is measured and reported on a weekly basis and is also shared and discussed with the customer. To achieve this incredible turnaround, Dita and Paul have worked closely together on tasks including overviewing stock parts sent to the customer on a weekly basis, reviewing and analysing any delivery delays, completing a weekly customer call to discuss open topics and share priorities and regular consultation with their internal colleagues in Production regarding any open orders. By placing the customer at the heart of their actions and working together, the team have achieved a great result which gives value to our Company and to the customer.
Ladislav Žižka
Integrity
Health & Safety Technician, Šumperk, Czech Republic
Since joining in January 2019, Ladislav operates as a true ambassador for our Health and Safety principles and role models our standards to others.
He prioritises the safety of others and ensures this extends not only to our employees, but also to suppliers, customers and external visitors to our location. During the short time he has been a part of the team, he has made a great contribution to the site including the refresh of all procedures and guidance documents, taking responsibility for the weekly SHE walks with the management team and improving signage across the facility. Ladislav works closely with all teams to share his knowledge and advice and he has quickly built a reputation of credibility and trust amongst his colleagues.
Kalpana Purja
Learn & grow
Operations Line Leader for Green Treatment, Seremban, Malaysia
Ms. Kalpana Purja, of Nepalese origin, has been with CeramTec for five years and in her current position as an Operations Line Leader, she has invested considerable time, beyond her normal working hours, to train, support and assist the operators in her department.
She has been an advocate of the importance of developing others and has proactively shared her knowledge with the team. As a direct result of her efforts to develop her team's skills, the department's output has increased by approximately 20% over a period of 2–3 months. Her commitment to support her team's development is an asset to CeramTec Malaysia and she is an important contributor to the team.
Sustainability, Commitment & Responsibility
Would you like to find out more about our commitment as a company?
You can find all our activities from the areas of sustainability, commitment & responsibility in our