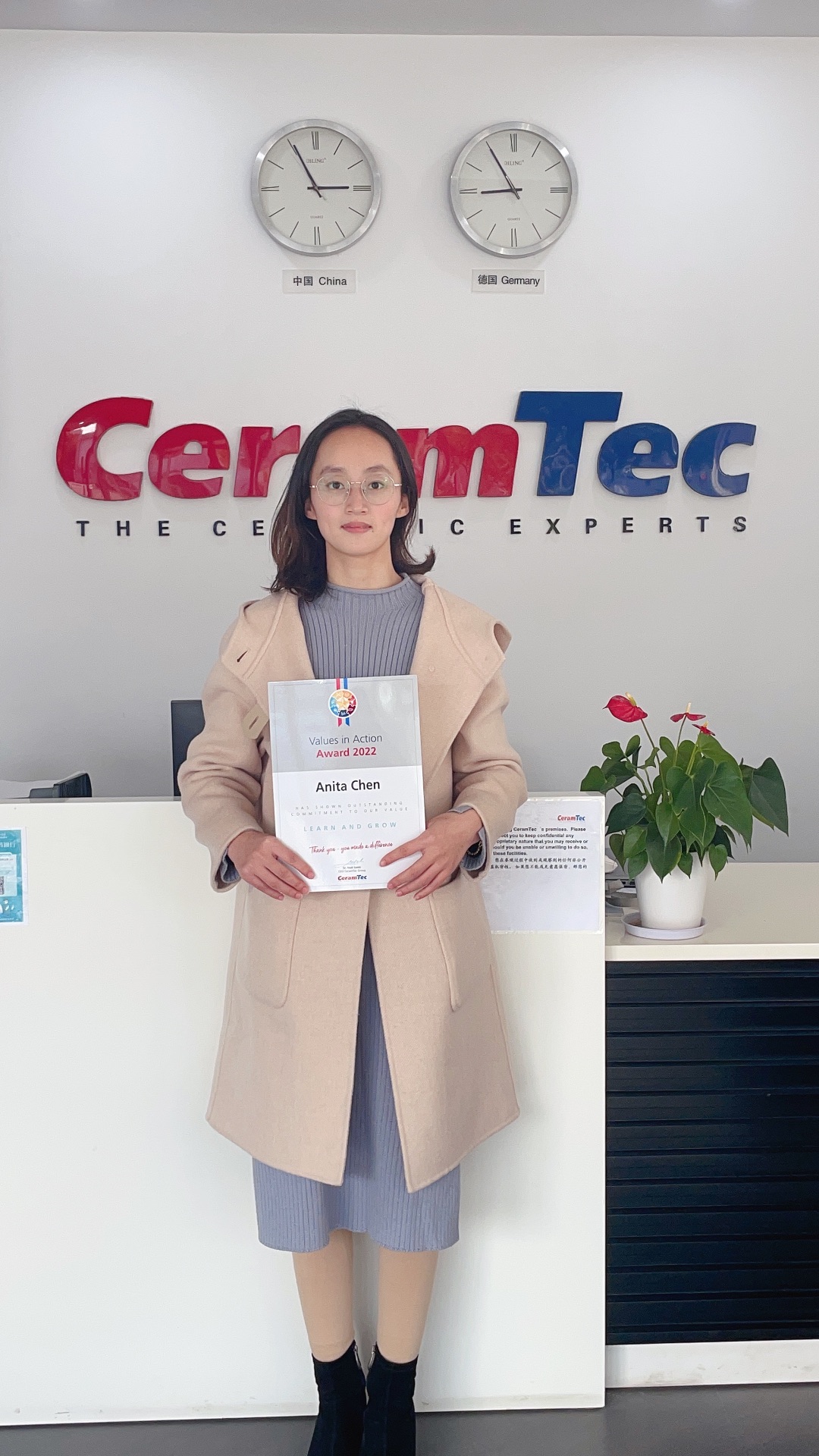 Accounting & Controlling in Suzhou, China
Anita Chen
Award, 2022
Anita Chen works in Accounting & Controlling at CeramTec in Suzhou and, through her continuous engagement and learning over the past 12 months, has significantly improved her knowledge of CAPEX management, business process optimization and financial management. She has used this knowledge to help colleagues optimize many business processes, such as improving rolling CAPEX forecasts, setting financial reimbursement policies, or optimizing the procure-to-pay process. Through her continuous learning, not only has she herself become richer in knowledge, but with these optimizations she has contributed significantly to making our data more reliable and comparable.
Technical Assistant Piezoceramics in Lauf, Germany
Luisa Gimpl
Award, 2021
Ms Luisa Gimpl from Lauf has developed from a production employee to a technical assistant for piezo production, as she quickly understood and knew how to apply methods such as Shopfloor Management, TPM and Lean.
As a facilitator for shop floor meetings, she quickly formed a link between manufacturing and lean management at the site. Thanks to her decisive contribution, various initiatives could be implemented sustainably in piezo production (e.g. key performance indicator OEE).
Operations Line Leader for Green Treatment in Seremban, Malaysia
Kalpana Purja
Award, 2020
Ms. Kalpana Purja, of Nepalese origin, has been with CeramTec for five years and in her current position as an Operations Line Leader, she has invested considerable time, beyond her normal working hours, to train, support and assist the operators in her department.
She has been an advocate of the importance of developing others and has proactively shared her knowledge with the team. As a direct result of her efforts to develop her team's skills, the department's output has increased by approximately 20% over a period of 2–3 months. Her commitment to support her team's development is an asset to CeramTec Malaysia and she is an important contributor to the team.