To overview page
New Milling System for 90° Shoulders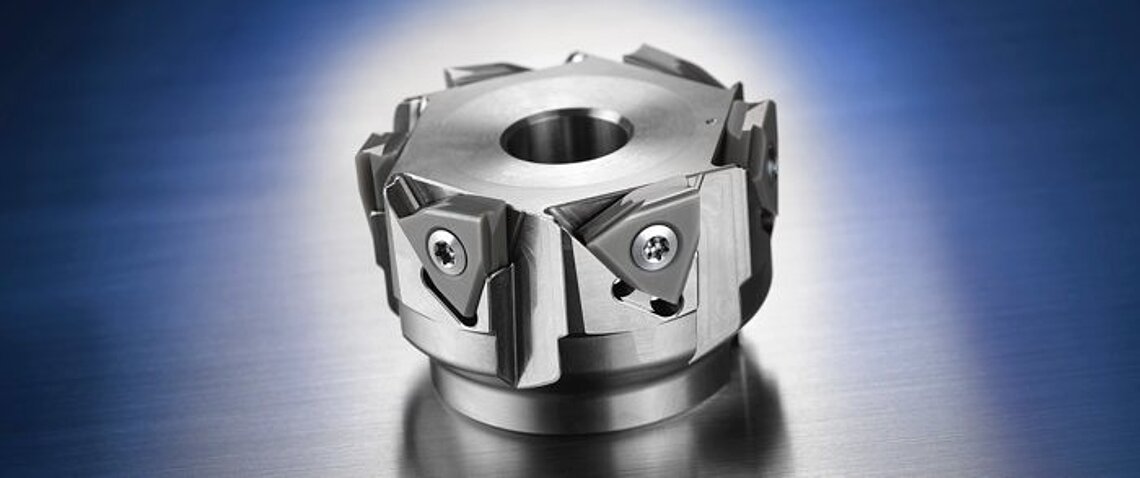 CeramTec is presenting high-quality cutting materials and tool holding systems for metal machining as well as technical ceramics for forming processes and wear protection at the AMB in Stuttgart from September 18th to 22nd. The product portfolio on display at the international exhibition for metal working will include a new tangential milling cutter. It is ideal for applications which require a soft cutting tool to reduce cutting pressure as well as for machining exact 90° shoulders.
The TFL-WP tangential milling cutter works with indexable inserts with six cutting edges. The positive cutting geometry enables milling to be carried out with significantly reduced cutting forces. Exact 90° shoulders can be machined at any height thanks to the tangential arrangement of the inserts. The advanced ceramic inserts guarantee enormous process reliability due to possessing the largest possible cross section. They are easy to replace using the screw clamps. Users benefit from a longer service life and improved feed rate on account of the tangential positioning and the resulting cutting edge spacing of the milling system.
The cutting material variants available for the milling system open up a wide spectrum of workable materials. For instance, GJL and GJV cast iron materials can be machined using these cutting materials with high process reliability. Its high axial and radial runout accuracy enables an Ra value of 6.3 μm.
Ceramic tools from CeramTec are used in the high-performance machining of cast irons, hard-to-cut materials and hardened steels. The company draws on over 60 years of experience in the field of engineering services for machining process optimization.
CeramTec will be exhibiting from September 18 to 22 at the AMB 2018 in Stuttgart, in hall 1, stand C50. Those interested can get on-the-spot information on cutting materials for hard turning, for processing hard-to-cut materials and for working cast iron. In addition, the company will be exhibiting milling tools that realize further potential savings in daily use.
Further information is available at: www.ceramtec.com/amb