To overview page
Extensive investment in medical technology production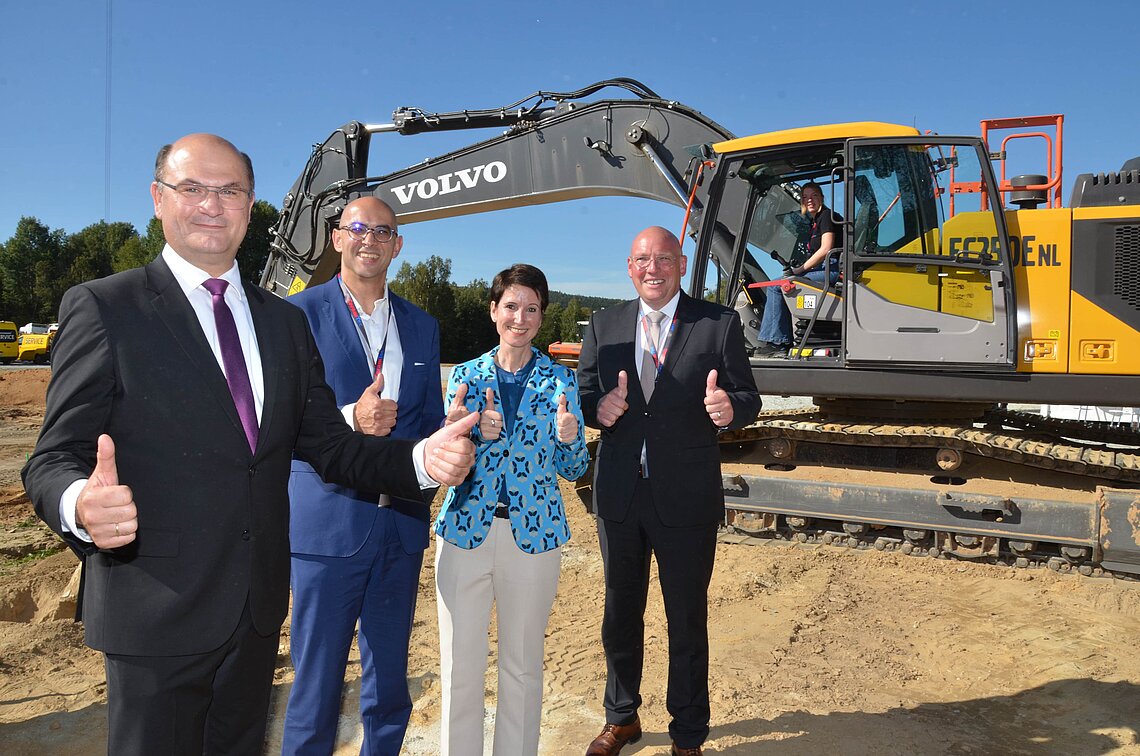 More medical technology "Made in Germany"
Demand for ceramic components for joint replacement is growing. As an advanced ceramics specialist, we are taking this into account and expand our manufacturing capacities in Marktredwitz, Upper Franconia. With the GO for the symbolic groundbreaking ceremony, Dr. Hadi Saleh, CEO of the CeramTec Group, Dr. Katrin Sternberg, President Medical of the CeramTec Group, Albert Füracker, MdL, Bavarian State Minister of Finance and for Home Affairs, and Oliver Weigel, Lord Mayor of the district town of Marktredwitz, gave the starting signal for the new building. We will add another medical technology production hall to our existing manufacturing facilities in the coming years.
Dr. Hadi Saleh is pleased about the expansion for two reasons: "On the one hand, we are experiencing a sustained high demand for advanced ceramics for medical applications. On the other hand, this demonstrates our commitment to Germany as a manufacturing location in general and Marktredwitz in particular. Here, we intend to invest around 75 million euros over the next four years and create more than 100 additional jobs. "Made in Germany" will continue to be the motto for medical technology from CeramTec. This is a strong signal for the region."
Albert Füracker, MdL, also addressed the location in his welcoming address and emphasized, "CeramTec is continuing a 120-year company history with the expansion building for medical technology. By choosing Marktredwitz as its location, CeramTec is confirming its bond with and trust in the region and is continuing to expand it. Medium-sized companies are the backbone of our society – with CeramTec we have a successful, energetic, and innovative company in Northern Bavaria. I wish you a smooth construction process and on-time completion."
High-performance ceramics (HPC) in medical technology are characterized by very favorable physicochemical properties and particularly good biological compatibility. Areas of application include components for hip prostheses and other orthopedic implants, dental implants, or components for medical devices.
The first construction phase of the new building covers a total area of around 11,000 m², and there is potential for further expansion on the site. We are planning to complete and fully commission the building by 2026. We are paying particular attention to sustainability in the building and the systems operated in it. In addition to the installation of a photovoltaic system, this also includes a holistic energy-efficient ventilation and air treatment concept. The use of waste heat and the intelligent consolidation of production facilities will also make CeramTec in Marktredwitz even more energy-efficient in the future.