09 - 11 May 2022
CeramTec @ PCIM 2023
The PCIM Europe is the world's leading exhibition and conference for power electronics, intelligent motion, renewable energy, and energy management.
This is the place where representatives from the fields of research and industry come together, where trends and developments are presented to the public for the first time, and where the entire value chain is covered – all the way from components to intelligent systems.
You are welcome to make an appointment in advance with a colleague from our sales team to discuss your requirements and projects in a personal meeting. We are looking forward to your enquiry and are looking forward to your message and your visit on site.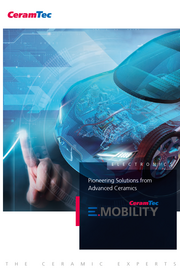 Automotive
CT Materials
CT Top Downloads
Electronics & Heat-Sinks
Piezo Ceramics
eMobility - Pioneering Solutions from Advanced Ceramics
E-Mobility: Power Electronics - Sensor Systems - Bearings - Temperature Management - Electrical Insulation
Download
Optimized Thermal Management
Lighting and Heat Dissipation in the Electronics Industry
Download