To overview page
Successful cooperation: Lebenshilfe im Nürnberger Land e. V. and CeramTec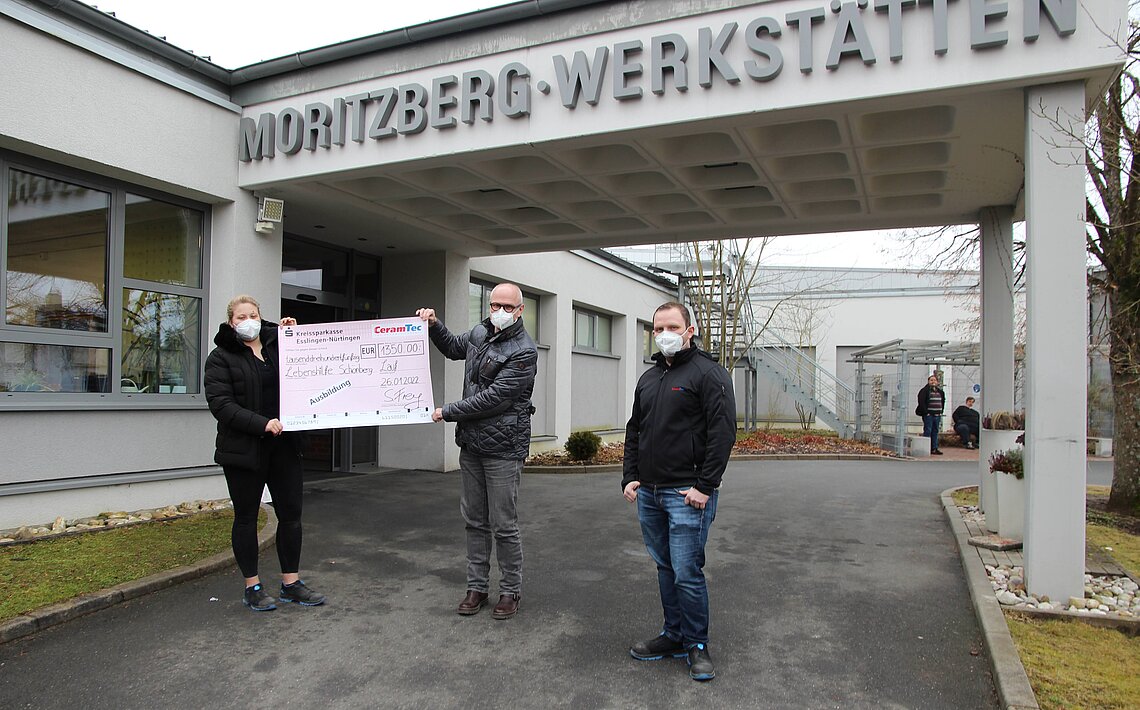 "This is a wonderful and generous surprise," workshop manager Jürgen Schmitt warmly thanked the two industrial trainers Janine Beugler and Markus Sommerer from CeramTec Lauf, who presented a symbolic donation cheque for €1,350. According to Schmitt, the donation will directly benefit people with disabilities and will go towards renovating the outdoor break area of the Moritzberg-Werkstätten.
The training team, consisting of Markus Sommerer, Janine Beugler and Sammy Frey, from the Lauf-based expert for technical high-performance ceramics, completely modernised their own training workshop in 2021 and brought it up to the state of the art. The donation amount was achieved by purchasing outdated workbenches from CeramTec employees in exchange for a small donation. CeramTec also intends to use the donation to actively revive the trainee social project with Lebenshilfe Nürnberger Land.
Due to Corona, the cooperation with Lebenshilfe had to be suspended for over two years. During the carnival week, the cooperation project will finally be continued: CeramTec trainees will work for a week in the Moritzberg Werkstätten. "During the Social Week, our trainees will once again have the opportunity to look beyond their own horizons on site and get to know people with disabilities and their working world. In this way, they can promote their social skills - an important aspect for us in the context of our training," explains Xenia Schmidt, who is responsible for training at the Lauf site.
For workshop manager Jürgen Schmitt, this is a win-win situation for inclusion: "Our workshop team is very much looking forward to the trainee social week!"